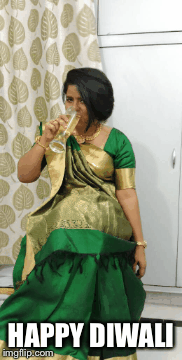 Happy Diwali …
Unless you been living under the rock, you must know by now that crackers are on the ban this year which is a good move I support in the interest of environment but truth has to be told. We are so much addicted to crackers by now that it feels less Diwali then any other year.  but what human we could be if not adapting to the changes, so I was doing some research on how to celebrate Festival without interrupting the nature and thought to share it with you apart from doing Lakshmi Pooja.
♥  Be a Pataka- Dress up, Take your time. don't be in hurry. Since you have all the time in the world to enjoy the festivities. you don't have to worry of your favorite outfit catching fireflies.
♥ Decorate your home – Diwali is the festival of Light not Sound so Crackers are not necessary. You can invest your money in earthen lamps & flowers.
♥ Food & drinks – Try a new cocktail or a new dish. Last year mine was Palak Kofta, this year am still searching. Cocktails making can be fun with sweets and snacks keeping you company.

So enjoy the festivities and have fun. take everyone in the festive stride including nature.
Let's not harm anyone and anything.
Happy Diwali to you and your family ♥♥♥♥♥